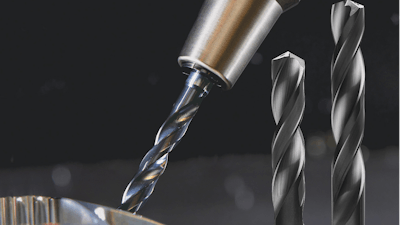 EMUGE-FRANKEN USA
EMUGE-FRANKEN USA (West Boylston, MA) introduced a full line of 3XD and 5XD solid carbide multipurpose drills that are ideal for a wide range of materials and applications typically found in high mix – low volume job shop environments.
MultiDRILL features include:
Sub-micro grain carbide grade

Advanced TIALN-T63 coating utilizing nano-layer technology with surface hardness

Cutting edges with a convex geometry
Double margin design that helps stabilize the drill in the cut
Drill web construction with a wide open flute form
MultiDRILLs are also self-centering, eliminating pre-spot drilling applications and all tools feature coolant-thru capability.
EMUGE MultiDRILL is available in 3XD and 5XD sizes from 0.1181 to 0.7500 inch, a total of 372 SKUs in the program.