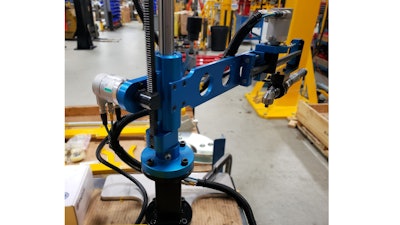 GCI
GCI Engineered Solutions today announced the expansion of the company's proprietary AdaptiCS Smart Arm intelligent torque reaction systems for overhead and tabletop torque reaction systems.
GCI has been working to make continuous improvements to its AdaptiCS smart system. First pioneered with torque reaction arms, AdaptiCS helps industrial manufacturers errorproof assembly processes. From quality control to operator guidance, the software helps ensure critical fasteners are installed correctly.
By expanding these features to overhead systems, users now have the ability to cover more area. Instead of requiring two smart torque reaction arms on each side of an assembly line, one smart torque tube can now accomplish the same goal.
The tracking for overhead systems is accomplished with either a rack-and-pinion or a drive-wheel setup. The rack-and-pinion approach is reliable but has coverage area limits. The drive wheel option is suitable for larger areas as long as the wheel calibration is properly maintained.
The expansion to tabletop torque reaction arms solved a different challenge for clients: tooltip accuracy. GCI's tabletop smart system is the first of its kind to track the X, Y and Z axes. Other options on the market only track tooltip location on two axes.
For more information, visit https://gcilift.com/.