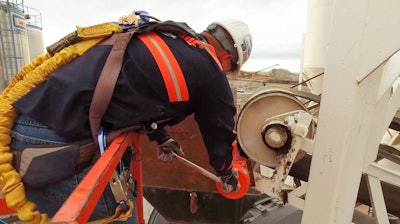 Martin Engineering
Martin Engineering (Neponset, IL) announced a factory-direct replacement program to deliver freshly-molded polyurethane cleaner blades for conveyor belts.
Program features include:
Replacement blades custom-fitted on-site and installed free of charge
Blades matched to their specific application
The replacement blades features:
Manufactured in-house

Made with specially formulated, color-coded urethane

Up to 53% more urethane in the wearable area than competitive designs
To achieve consistent cleaning throughout all stages of blade life, Martin's patented Constant Angle Radial Pressure ("CARP") technology incorporates a specially engineered curved blade to maintain optimum cleaning performance and efficiency.
Available technology includes Martin's N2 remote monitoring system to track tension and wear on all cleaners without having to physically visit the equipment.
This technology:
Monitors primary belt cleaner blades in real time

Minimizes need for manual inspections

Notifies technicians and plant operations personnel before re-tensioning or replacement is required and/or when abnormal conditions occur

Reduces need to expose personnel to moving conveyors

Allows service personnel to deliver and install replacement wear parts during scheduled outages
Martin offers the components and monitoring service free of charge for qualifying customers. The company also supports the components with factory-direct service and provides customer alerts without cost.