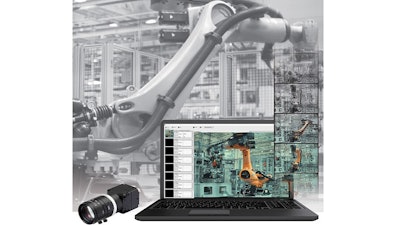 Omron Automation Americas
Omron Automation Americas (Hoffman Estates, IL) launched a new Factory Drive Recorder software that is fully compatible with the Omron M Series cameras. This solution helps engineers perform high-level corrective maintenance in the life science, automotive, semiconductor, electronics, machine tooling and food and beverage industries.
Factory Drive Recorder is designed to be an affordable, out-of-the-box solution that can:
Record video up to five minutes before and after a designated incident based on a variety of triggers.
Monitor up to eight cameras on a single system.
Engineers can utilize the following four triggering methods to prompt recording:
Time-based (triggering every X period of time)
Motion detection (e.g., when a door opens)
Master image comparison
Trigger signal (whether from a sensor, PLC or another external source).
Factory Drive Recorder is designed to work with Omron industrial cameras. It is compatible with the M Series GigE Vision and the M Series USB3 Vision.
These cameras feature resolutions from 0.4 to 20 MP and frame rates as high as 527 FPS, including a multitude of high-end Sony Pregius sensors with Global Shutter.