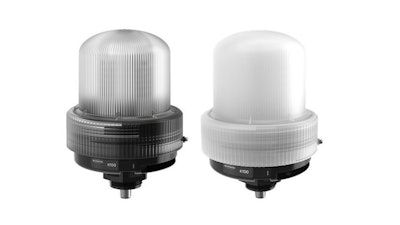 Banner Engineering
Banner Engineering (Minneapolis, MN) introduced the K100 Pro Beacon series with two 100 mm models: Pro Daylight Visible and Pro Indicator, for advanced indication applications.
The K100 Pro Daylight Visible model offers:
12 audible options and has a clear lens that avoids false indications.
Bright indication in both indoor and outdoor environments.
An IP66 environmental rating for dust, rain and snow.
Three color options (green, yellow and red) for status indication, operator guidance and other functions.
The K100 Pro Indicator model has:
A diffused lens that appears white when inactive.
14 color options that can be used for status and indication applications.
An IP66 rating for rugged environments, rated as "dust tight" and made to withstand powerful jets of water.
Banner's proprietary Pro Editor software enables users to program device status, colors and animations.
The beacon series is discretely controlled and ideal for users who do not have IO-Link but want control and customization capabilities to communicate information visually.
The PC-based interface makes it easy to configure a beacon for a range of applications, such as:
Displaying machine warm-up time.
Indicating unique steps in an assembly process.
Showing distance and position.
Communicating multiple machine states.
Customization of tones allows for full control of audible capability in DC models, including frequencies, patterns and intensities. Both models have adjustable audio intensity control from 93-101dB.