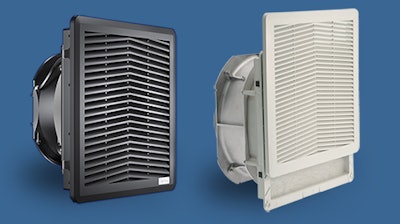 Seifert Systems
Seifert Systems, Inc. (North Kingstown, RI) introduced its 4000 Series filter fans. The series covers 70 UL listed filter fan models designed for enclosure applications.
The 4000 Series filter fans feature:
Mounting screws available with EMC models or as an option.
Filter media that snaps in place and easily slides out for replacement.
Ability to be turned on only when needed when used with a Seifert thermostat.
70 Seifert 4000 Series models cover physical sizes from 4.2 x 4.2 x 2.6 to 12.8 x 12.8 x 6.3 inches (h x w x d) and air flow ranging from 7 to 483 cfm.
Some models are for side mounting and some are designed to be roof mounted.
The 4000 Series of filter fans features shielded and self-lubricating ball bearing fans and permanent sealing gasket in polyurethane foam.
Filter fan options include powder coated or FDA grade protection hoods.
Options include:
IP54 ingress protection in the standard version,
IP55 and EMC
UL type 12 and UL type 3R