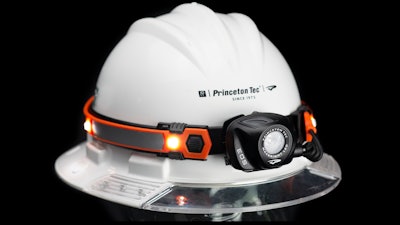 Princeton Tec
Princeton Tec (Trenton, NJ) announced its EOS 360 Headlamp and Safety Flasher. It provides hands-free task lighting in low-light areas, which improves employee vision and job performance at the worksite. It is essential Personal Protective Equipment (PPE) that helps employees be seen, which protects them from vehicle traffic and equipment.
The hardhat mounted PPE is a combination of front facing EOS headlamp and rubberized LED band that provides 360° visibility to minimize collision risk. The headlamp and safety flasher operate independently. Workers can choose and switch between the combination of task lighting and safety lighting they need (headlamp, LED band, or headlamp and LED band).
Mounted on the front of the LED band is the EOS headlamp:
The headlamp with Maxbright LED provides 3 brightness levels with 165 lumens in high and a maximum beam range of 72 meters (236 feet).
A hinged bracket on the headlamp swivels up and down to direct light.
The LED band includes on and safety flash modes and reflective strips to improve visibility.
A slip-resistant design keeps the LED band in place on a standard or wide brim helmet or hard hat.
It is waterproof to IPX7 standard (not dive rated).
Run time is 4.5 to 51 hours depending on operational mode.
The lightweight device weighs 5.75 ounces with 3 AAA batteries (included).