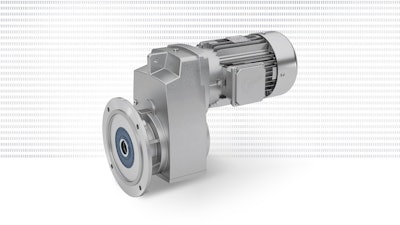 Nord Gear Corp
Nord (Waunakee, WI) announced its redesigned line of small Clincher parallel gear units showcase increased power and torque capacity for a variety of applications. These re-engineered versions will be replacing the existing SK0182NB, 0282NB and 1382NB units. They are lightweight, have improved heat dissipation, are more cost-effective and are available with NORD nsd tupHTM sealed surface conversion for wash-down and extreme environments.
When combined with centralized or decentralized variable frequency drives, Clincher units provide efficiency and economy for a wide range of system solutions along with a rigid Unicase one-piece housing to guarantee long service life, quiet operation and low maintenance.
Small Clincher units include the SK0182.1, 0282.1 and 1282.1/1382.1 and are offered with a standard die-cast aluminum housing. Additionally, the SK1282.1/1382.1 units are available with a cast-iron housing which is required for the NORD Screw Conveyor Package and Spread Bearing Designs (VL2/VL3).
Additional design flexibility has been made possible by offering two mounting executions: a B14 face flange/foot mounted version and a B5 flange version. Within each mounting style, there is an execution to match the mounting and shaft dimensions of legacy Nord product and an execution to match common competitor equivalents.
Nord's new Clincher models also come with extensive shaft designs including solid keyed, hollow keyed, shrink disc, GRIPMAXXTM (1282.1/1382.1 only) and screw conveyor (1282.1/1382.1 only). There are also a variety of input options including direct mount motors, universal motor adapters – NEMA or IEC and solid input shafts. This increases system flexibility and reduces installation space due to the units' slim design.
Small Clincher gear units provide ratios of 4.85 – 356.89:1 and a power range of 0.16 HP – 5 HP. With torque up to 3,540 lb-in they are a solution for high efficiency operations where low operating costs are essential. It features increased torque capacity of up to 33%.