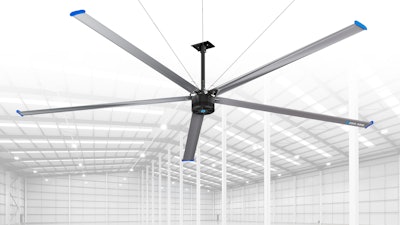 Cool Boss, a division of BendPak (Theodore, AL) expands its product lineup beyond evaporative coolers with the new Tempest and Windstorm series of high-volume, low-speed (HVLS) industrial overhead fans.
According to the company, Cool Boss HVLS fans make HVAC systems more efficient, while significantly improving worker comfort and health. Running the fans counterclockwise in the summer provides the expected cooling effect. In the winter, running the fans clockwise mixes heated air rising from below with cooler air sinking from above to provide an optimum temperature without running heaters as often – resulting in up to 30 percent energy savings.
Cool Boss HVLS fans are available in a range of sizes, from 11.5 feet to 24 feet in diameter. They're quiet and built to last, using high-strength, fatigue-resistant aluminum alloy for the blades. Blades are powder-coated to ease cleaning and ensure long life. Winglets on the blade ends improve aerodynamic performance and increase airflow. The winglets reduce turbulence, decreasing drag to maximize energy efficiency.
All Cool Boss HVLS fans use direct-drive permanent magnet synchronous motors. These motors are smaller and lighter than traditional AC motors but deliver higher output torque with no gearing required. Overall, this style of fan uses up to 50 percent less energy than those using conventional motors. The Tempest Series debuts with two models, both of which have six blades. The Windstorm Series includes two five-blade models.
coolboss.com, 855-2BE-COOL