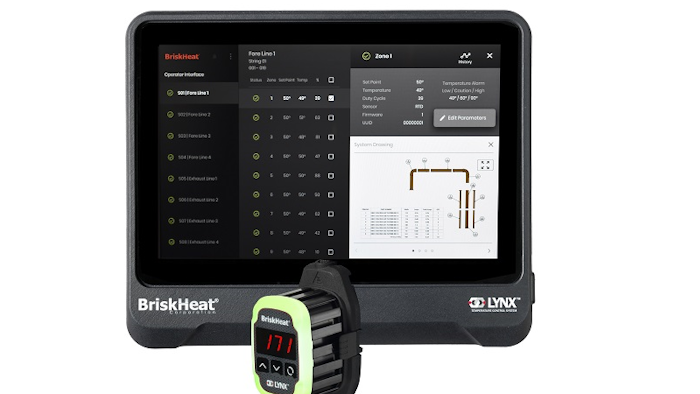 BriskHeat (Columbus, OH) has announced the launch of its new LYNX Temperature Control System, a state-of-the-art PID temperature control system which controls up to 1,024 zones. The LYNX is a modular system designed for manufacturers in a wide range of industries, including semiconductor, laboratory, research and development facilities, pharmaceuticals, cosmetics, composite curing, petrochemical and process heating and drying. Specifically:
Each heater can be individually controlled and monitored using the LYNX system, ensuring that users know each unit's performance status, which is indicated through the large full-color touchscreen interface, indicator lights, remote monitoring and email alerts.
The LYNX Operator Interface controls up to eight lines of connected temperature control modules with up to 128 modules per line, up to 1,024 heaters, with user-configurable graphical mapping and naming to match the customer's application and facility.
It features global and individual programming with the menu-driven interface.
The compact temperature control module can be used as a free-standing unit for use with any of BriskHeat's heaters up to 7 amps.
It features 3-button programming and a highly visible status indicator light and can communicate to other systems using Modbus.
www.briskheat.com; 888-501-7491