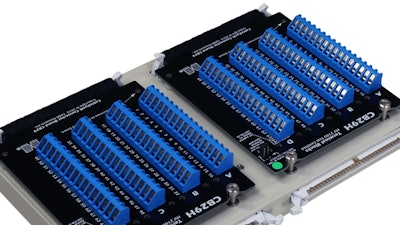 CAMI Research (Acton, MA) has released a High-Voltage (HV)-rated QuickMount housing (CBH2) for its CableEye automation-ready, cable and wire harness testing systems. As a free-standing, quick-release board fixture, it allows users to connect CAMI's test interface boards to the 64-pin headers of any expansion module - even at some distance. The housing may be used with any CableEye model and is rated to 2,100 VDC/1,500 VAC. Additional features include:
The ability to connect boards to an expansion module, or for applications in which the connector boards must be separated from the tester..

The ability to lock boards in place using supplied nylon thumbscrews.

The ability to use multiple housings on systems larger than 256 test points.

2 types of expansion cable:

Ribbon cables (Item 856) for test voltages up to 500 V.

Ampmodu cables (Item 654) for higher test voltages — the item ships with two 5" ribbon expansion cables.
For more information, email [email protected], visit www.camiresearch.com, or call (978) 266-2655.