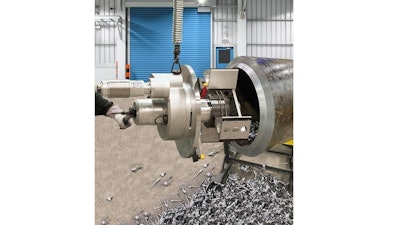 Esco Tool (Holliston, MA) has announced the availability of a pipe beveler that is easy to operate for performing precision end preps on pipe from 4.5" I.D to 24" O.D., to assure high-integrity welds. Specifically:
The Dictator II MILLHOG Pipe Beveler is an I.D. clamping welding end prep tool that aligns perfectly using self-centering clamps and can incorporate four blades in order to bevel, face and bore or create a compound bevel.
Featuring an adjustable tool post for easily indexing the blades, it can perform 37.5º to 10º compound bevels on a 24" O.D. pipe with a 2" thick wall and is offered with air, electric, and hydraulic powered motors.
Equipped with a patented safety spring hanger for easy positioning and clamping, the Dictator II MILLHOG Pipe Beveler uses one mandrel and a set of three wide clamps that provide six points of contact to the pipe I.D. to mount rigidly and ensure chatter-free operation.
This machine requires no cutting oils and is well-suited for use in fabrication shops or on-site.
www.escotool.com, 800-343-6926