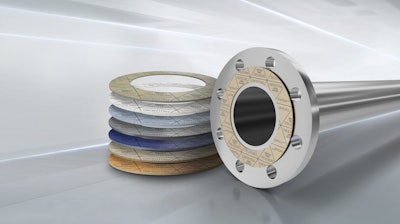 Trelleborg Sealing Solutions (Fort Wayne, IN) has launched HMF FlatSeal, a new range of flat gasket materials for effective static sealing in low and high-temperature applications. The range includes specialist materials for use with harsh chemicals and mediums in aerospace, automotive, oil & gas, food & beverage, chemical processing and pharmaceutical industries.
The HMF FlatSeal range includes 20 materials, from a standard material for low to moderate pressure and temperature applications to engineered solutions for high-pressure, high-temperature environments, and even specialist materials for food contact applications with FDA and other conformities. Specifically:
HMF FlatSeal flat gaskets are available in four product groups; an innovative mix of high-quality aramid fibers and Nitrile Butadiene Rubber (NBR), expanded graphite, polytetrafluoroethylene

(

PTFE), or phlogopite mica materials, to provide a wide range of specialist capabilities, outstanding mechanical stability, and compliance with fugitive emissions requirements.

The addition of an innovative in-organic treatment

is available for graphite-based flat gaskets, which improves the long-term oxidation properties of the gaskets in high-temperature applications to extend the service life.

The treatment also provides anti-stick properties to facilitate the removal of the gaskets and minimizes the cleaning effort of the flanges.
www.trelleborg.com/en/seals/products-and-solutions/flat-gaskets