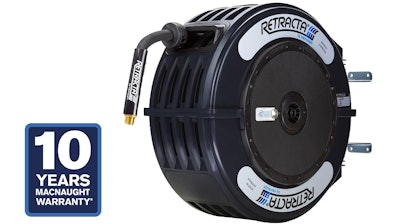 Macnaught USA (Tampa, FL) has introduced its Retracta R3 Hose Reel with RACR (Retracta Adjustable Control Return). Featuring a 10-year warranty, the Retracta R3-RACR is the market's first reel with fully adjustable return speed for increased safety. The patented RACR system utilizes an adjustable hydraulic clutch that allows the user to set the speed of return to meet individual requirements, protecting personnel and equipment. Easy to adjust with only a screwdriver, the Retracta R3-RACR hose reel has a texture-rolled carbon spring for maximum service life and built-in spring overrun protection. Specifically:
The unit comes standard with a safe tensioning mechanism, protecting the operator from direct spring interaction.
It offers increased hose capacity up to 65 feet, and its Air/Water RetractaFlex hybrid polymer hose eliminates kinking for superior performance.
The polymer hose mouth design provides high wear resistance, and the reel has an integrated handle for convenience. Its wide mounting bracket offers improved stability.
The fully serviceable Retracta R3 reel is available in an array of case and hose colors for air, water, oil, grease and hot water applications. It is suitable for factory floors, shops, vehicle dealerships, truck and heavy equipment repair facilities and more.
www.macnaughtusa.com; 813-628-5506