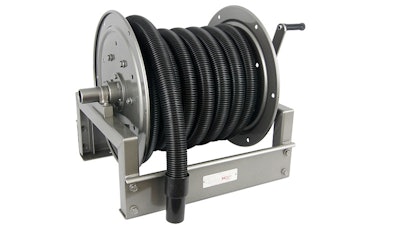 Hannay Reels (Westerlo, NY) has introduced four new series of industrial strength vacuum reels. The VAC4000, VAC900, VACN900 and VAC2900 are designed specifically for shop vacuum applications, car detailing and general industrial vacuum needs. Specifically:
The reels are constructed of heavy-duty steel to ensure they hold up in extreme environments.
These reels handle up to 50' of 1-1/2" or 2" ID vacuum hose and are available in manual or spring return to automatically rewind hose.
With the exception of the VAC4000 Series, all of these reels allow for different mounting options: floor, ceiling or wall.
www.hannay.com; 877-GO-REELS