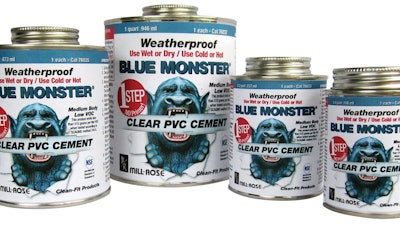 Blue Monster 1-Step PVC Cement, a self-priming PVC pipe glue that requires no additional primer, is now available in a clear formula exclusively from Clean-Fit Products, a division of The Mill-Rose Company (Mentor, OH). Clear formula Blue Monster 1-Step PVC Cement is formulated to simplify installations by reducing labor and offers faster curing times before pressure testing. The clear formula provides a cleaner appearance to all PVC connections and can be used on all classes of rigid and flexible PVC pressure pipe, including Sch. 80 (up to 6" in diameter), and 8" diameter on non-pressure PVC pipe. Other specifics of this fast-set cement include:
The ability to be used in all weather conditions, sealing wet or dry PVC pipe effectively.
An eco-friendly (low VOC) formula, which meets or exceeds ASTM Spec. D2564 and can be used without primer where acceptable by local codes.
Clear or blue colored formulations in 4-ounce, 8-ounce, 16 ounce and 32 ounce cans with an applicator designed into the container's lid.
Typical uses include potable water, pressure pipe, pool, irrigation, conduit, DWV, drain duct and sewer.
www.cleanfit.com; 800-321-3598