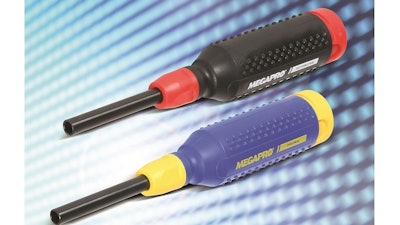 AutomationDirect (Cumming, GA) has added new multi-bit drivers from Megapro. These bit drivers are versatile screwdrivers designed to house a set of common or specialized screwdriver bits for a variety of industrial applications.
Megapro bit drivers are available with various double-ended industrial grade S2 steel bits and have an alloy shaft that also serves as a ¼" hex nut driver. The handles are made of ultra-strong Triax 1120 resin (an ABS alloy) and they all have a retractable cartridge for easy bit access and storage.

Select from seven series, including specialty models for electronic and automotive applications.
www.automationdirect.com/multi-bit-drivers, 800-633-0405