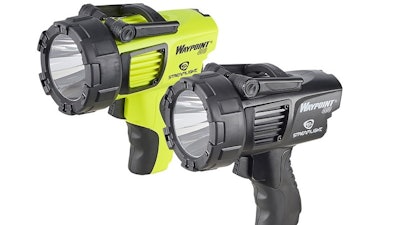 Streamlight, Inc. (Eagleville, PA) has launched the Waypoint 400, an updated model of the Waypoint 300. The new version of the rechargeable pistol-grip spotlight offers up to 1,400 lumens of ultra-bright white light with 400,000 candela and a beam distance of 1,265 meters for enhanced down-range lighting capability. The portable light can be used as either a handheld mobile searchlight, or, with its integrated stand, as a hands-free scene light to illuminate an area. Additionally:
The Waypoint 400 uses power LED technology and a deep-dish parabolic reflector for long-range targeting with optimum peripheral illumination.

On the high setting, it features 400,000 candela, a 1,265-meter beam distance, and 1,400 lumens. On medium, it provides 600 lumens and an 812-meter beam distance; on low it offers 38 lumens and a beam distance of 200 meters. The new light runs for 3.25 to 84 hours on high and low, respectively.

The Waypoint 400 uses a rechargeable lithium-ion battery that fully charges in four hours. A convenient LED charging indicator provides charging status.

The rugged Waypoint 400 features an unbreakable polycarbonate lens and is O-ring sealed. With a trigger-style switch for momentary or "constant-on" operation, the light boasts a cushioned grip handle that eliminates user hand fatigue.