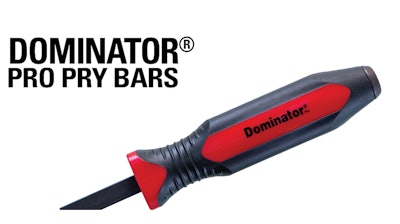 Mayhew Steel Products, Inc. (Turner Falls, MA) has introduced the new Dominator Pro series, bringing a next generation handle design to their long-standing Dominator Pry Bar Product Line. The new Dominator Pro Pry Bars are comprised of higher-quality, firmer materials and a unique tri-lobular design that provides a more enhanced, ergonomic grip. These new Dominator Pro Pry Bars are ideal for any lifting or prying action and are available in both curved and straight blade styles. Features include:
A hardened and tempered alloy steel shaft that runs from the cutting edge through the handle to deliver maximum durability and prying power.
A capped end, which allows for striking without damaging the handle and serves as a shock absorber, reducing hand fatigue.
Patented linear ribs around the neck, ensuring maximum transfer of torque, while the patented axial ribs assure a slip-free grip.
A black oxide finish that helps prevent corrosion and reinforces long-lasting durability.
www.mayhew.com; 800-872-0037