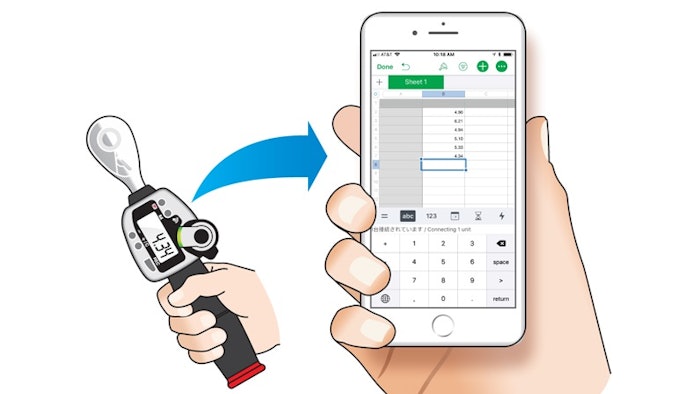 IMADA, Inc. (Northbrook, IL) Digital Torque Wrenches for iPhone transmit peak data via Bluetooth to iPhones and iPads (iOS 8 and later) up to 20 feet away. A single device can have up to three wrenches connected. The Keyboard app enables the user to capture and log data directly into Notes, Numbers or any other notepad utility. The wrench transmits user selectable data including torque value, wrench ID, date and time. The wrench alerts the user with an alarm when out of range. The last data point is saved in memory and transmitted when connection is re-established. Specifically:
Wirelessly transmit peak torque data to an iPhone® or iOS® device up to 20 feet away via Bluetooth.
Easily transfer data from iPhone via email or text.
Connect up to three wrenches to one iOS device (iOS 8 and later).
Measures in N-m units only.
5 programmable Go/No Go torque presets with LED indicator and audible alarm.
Pass/Fail counter with high/low set points.
Peak, peak with auto zero reset, and real time modes.
High accuracy ±1.5% F.S. both CW and CCW.
Free Keyboard app for iPhone or iOS device.
Kit includes two rechargeable lithium ion batteries (CR123A) with charger, calibration certificate traceable to NIST, and carrying case.
www.imada.com;  847-562-0834