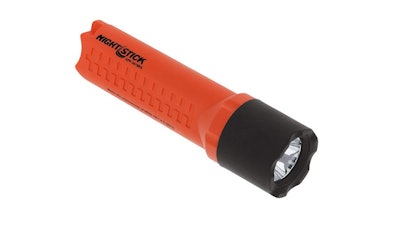 The new XPP-5418GX and XPP-5418RX (red or green respectively) Intrinsically Safe 3AA Flashlights from Nightstick, a brand of Bayco Products (Wylie, TX), offer a 200-lumen sharp LED beam and a 10-hour runtime. Make each model a K01 kit, and you've added a multi-angle mount that transforms the flashlight into a hands-free tool of the trade. Features include:
A large tail switch that is easily accessible even while wearing gloves.
A CREE LED light that boasts over 50,000 hours of operation.
The ability to fit into a multi-functional mount that connects to a helmet accessory slot or directly onto the brims of most hard-hats. Once attached, users will be able to take advantage of the functional flexibility of the mount, making it easy to angle the light up or down, or position it for a side-to-side tilt functionality.
A polymer housing that is IP-67 rated dustproof and waterproof, as well as impact and chemical resistant.
The 5418 lights are safe for global use in Class I, Division 1 hazardous locations and meet requirements of NFPA-1971-8.6.
www.nightstick.com; 800-233-2155