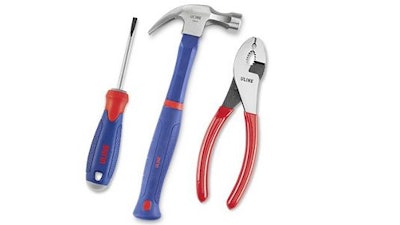 Uline
Comfort Grip Hand Tools from ULINE are essential tools used in every facility and workshop. The product line include:
A 16 oz hammer with a shock-absorbing fiberglass core.
A 6-piece screwdriver set with a slotted 3/16", 1/4" and 5/16", and Phillips 1, 2 and 3.
A 5-piece pliers set that includes an 8" groove joint, a 6" slip joint, a 6" diagonal, a 6" bent nose, and a 6" long nose.
A 24" magnetic tool holder.
For more information, visit https://www.uline.com/BL_1946/Comfort-Grip-Hand-Tools.