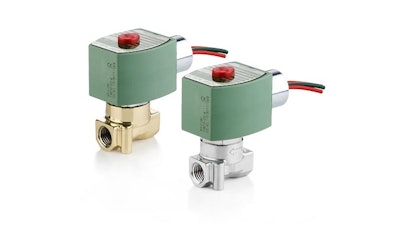 Emerson (St. Louis, MO) has launched its new ASCO Series 262 and 263 Biodiesel Valves, the first combustion valves certified for use with biodiesel blended fuel in industrial and commercial boilers in the Americas and Asia. These biodiesel valves make it possible for district heating and commercial boiler burner applications to transition to a more sustainable energy source, simplifying compliance with evolving regulations while reducing boiler users' greenhouse gas (GHG) emissions and carbon footprints.
Biodiesel heating fuel is biodegradable and cleaner burning, producing fewer GHG emissions than petroleum alone. Multiple studies have found that biodiesel fuel can reduce GHGs from 50% to 86% compared to conventional diesel fuel, says Emerson. Using non-certified biodiesel automation products in biodiesel applications may lead to a severe reduction in the performance and safety of the valves. This could lead to long-term damage for the fuel train and the impact could range from leakages to a complete loss of process control. Biodiesel is a corrosive medium that requires specially designed and certified products. As sustainability is a top priority worldwide, regulations and certifications are changing in favor of using biodiesel blends. Underwriters' Laboratories (UL) recently updated its oil burner standard, UL 428B, to include biodiesel blends up to 20% (B20). Series 262 and 263 valves feature an elastomer that is compatible with B20 and are certified under UL 428B.
The robust construction of Series 262 and 263 solenoid shut-off valves provide long service life and low internal leakage, minimizing maintenance and improving reliability, while the welded core tube offers high pressure ratings for efficient fuel use. Mountable in any position with a range of elastomer options, these compact poppet valves allow tight shut-off that can improve efficiency while reducing emissions and cost. A full selection of explosion-proof enclosures is also available.
www.emerson.com/en-us/news/2023/02-new-asco-series-262-263-biodiesel-valves