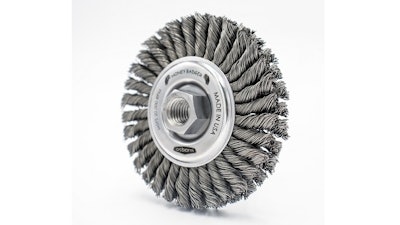 According to Osborn (Richmond, IN), its new stringer bead brush offers twice the life and aggression of its already proven and industry-leading Four-Inch TufBrush Stringer Bead Brush. The innovative technology involving two brush sections also gives it the ability to clean both sides of a weld at the same time.
The Honey Badger Double Stringer Bead Brush is said to establish a new standard in welding, as there are currently no other brushes on the market that can achieve what it can. The Honey Badger is built with two sets of wire knots on a unique face plate and nut. Because of how it's constructed, the brush can hit both sides of the root, or hot pass, while cleaning out any slag or debris of a weld.
The Honey Badger Double Stringer Bead Brush can currently be pre-ordered and will be available to purchase in 2023. Right now, the product is patent pending.
www.osborn.com, 800-720-3358