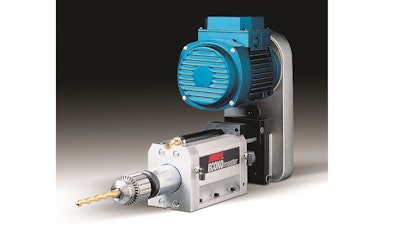 Suhner (Rome, GA) introduces the ECONOmaster line of drilling units, in stock for immediate delivery or customizable to suit the particular operation. This economical solution is ideal for multiple materials such as light metal, wood, composite, plastic and foam. Because these units are entirely produced at the Suhner factory in Rome, Georgia, response times for delivery and customized construction are minimal, according to the company. The ECONOmaster drilling unit features:
Low power and air consumption.

Adjustable motor housing.

Adjustable total stroke up to 4".

Hydraulic feed control cylinder.

J33 taper spindle end.

0-1/2" drill chuck.

Electric front & rear position limit switches, belt tensioner and chrome-plated quill.