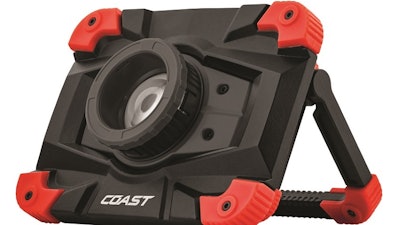 COAST (Portland, OR) has launched its first work light – the WLR1 – giving it all the practical bells and whistles that COAST is known for. The 1000-lumen WLR1 is rechargeable, durable, portable, and extremely versatile, for use at job sites and beyond, and is compact enough to fit in your toolbox.
Specifically:
The light can run continuously when plugged in, or can run cordless on the embedded lithium-ion battery.
The work light also acts as a power bank, with the ability to charge cell phones or other USB-compatible devices.
A battery-life indicator lets you lets you estimate the remaining runtime you have left before needing to plug it back in.
The light features a combination handle/stand that rotates 180 degrees, allowing users to see ahead while holding, or to prop it up and adjust the light where needed.
The WLR1 is built rugged to take abuse on the jobsite, and is IP54, meaning it is both weatherproof and dustproof.
www.coastportland.com; 800-426-5858