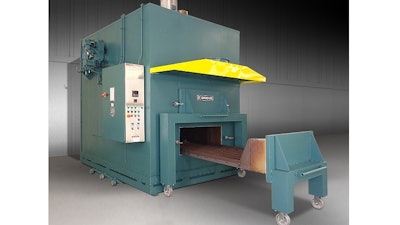 No. 1049 is a 1050°F (566°C), cabinet oven with two drawers from Grieve (Round Lake, IL), currently used for annealing or normalizing processes at the customer's facility. Workspace dimensions of this oven measure 39" W x 102" D x 51" H, with two drawers rated 250 lbs. loading with 36" wide x 78" deep x 15" high loading area. 800,000 BTU/hour installed in a modulating natural gas burner, while a 10,000 CFM, 7-1/2 HP recirculating blower provides horizontal airflow to the workload. Additionally:
This Grieve oven features 10" thick insulated walls comprised of 2" 2000°F ceramic blanket and 8" of 10 lb/cf density rockwool.
Features include a top mounted heat chamber, aluminized steel exterior and Type 304, 2B finish stainless steel interior.
Additional features include a rear door for access to workspace and heat chamber, exhaust hood over drawers and motorized dampers on intake and exhaust for accelerated cooling.
The oven includes all safety equipment required by IRI, FM and National Fire Protection Association Standard 86 for gas-heated equipment, including 1800 CFM stainless steel powered forced exhauster. It also meets AMS2750, Class 2 (±10F), Type C (survey thermocouple at hottest and coldest location).
Controls on the No. 1049 include a digital indicating temperature controller, two digital shutdown timers, one for burner and one for oven and a circuit breaker disconnect switch.
www.grievecorp.com; 847-546-8225