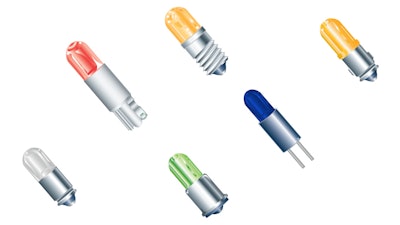 Visual Communications Company (VCC; Carlsbad, CA) is rolling out two new LED Lamps for its distribution channels. The T-2 and T-1 3/4 Miniature LED replacement lamps were added to VCC's portfolio during its acquisition of Display Products, Inc. (DPP) in Q3 of 2017. Designed to be simple replacements for outdated incandescent bulbs — especially for mission-critical applications — the T-2 and T-1 3/4 Miniature LED lamps offer the following noteworthy benefits for manufacturers and designers, such as:
Fitting directly into standard incandescent sockets.
Operating at significantly lower temperatures.

 

Utilizing up to 90 percent less energy than incandescent lamps.
Lasting up to 100,000 hours, or 10 years.
Delivering improved and reliable indication.
Ensuring shock and vibration resistance.

 

Eliminating downtime due to bulb replacements.
Providing instant-on illumination.
Allowing for fast and easy installation.
www.vcclite.com; 800-522-5546