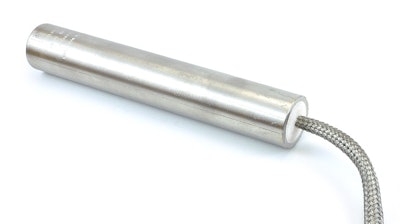 BriskHeat (Columbus, OH) has released a line of durable and efficient cartridge heaters, available in a variety of lengths and diameters, that are in stock and ready for delivery usually within 24 hours. BriskHeat cartridge heaters are designed for applications where high operating temperatures or heavy vibrations may be present. Features include the following:
A 304 stainless-steel sheath, which provides oxidation resistance in a wide variety of environments.
High-purity magnesium-oxide fill, allowing maximum dielectric strength and thermal conductivity.
Nickel-Chromium resistance wire, which gives the heaters maximum life, and the wire is evenly wound for better heat distribution.
According to BriskHeat, if a customer has a specific request, the company can provide a custom heater in under two weeks or complete an expedited request in as little as a day.
www.briskheat.com; 888-501-7491