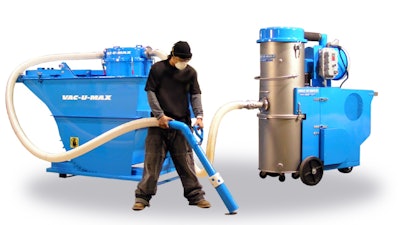 VAC-U-MAX (Belleville, NJ) has announced that it will exhibit several products at IMTS 2018 (International Manufacturing and Technology Show) that will be held September 10-15, 2018 at McCormick Place, Chicago, Illinois, Booth 121035. VAC-U-MAX industrial vacuum cleaning solutions include high volume recovery of many materials including liquids, liquids with solid particles such as metal chips and shavings, swarf, steel shot / grit, and other metalworking debris. Specific products on display will include the following:
Separates Coolant from Metal Chips & Shavings: VAC-U-MAX 55MW is an industrial vacuum cleaning system designed to clean 100% liquids, or liquids with solid particles such as metal chips or shavings. Operators quickly empty machine tool sumps, machining beds, oil/water separators, parts washers, rinse tanks, and efficiently clean-up liquid spills. Solid particles are separated from collected liquid with a VAC-U-MAX Chip Basket and liner.
High Volume, Continuous-Duty Industrial Vacuum Cleaner: VAC-U-MAX MDL 1020MFS (pictured) is an Industrial Vacuum Cleaning System designed specifically for high volume recovery (up to 5 tons per hour) of even the heaviest materials. System features a powerful positive displacement pump and is available in either 10 or 15 HP.
Liquid Recovery Transfer Tank Kit - Two Gallons per Second with Wet/Dry Options: VAC-U-MAX Model TK is ideal for applications requiring high volume liquid recovery, with wet and dry options available as application dictates. Unique design fills 99% of closed top drums at rates of up to 2 gallons per second, and the unit features a single venturi, producing maximum suction and air-flow with minimum air consumption. The Model TK offers quiet operation with no motor noise and air exhaust muffled for sound levels within OSHA requirements.
Central Vacuum Cleaning Systems Designed for Depositing Metal Chips / Shavings on Below-Floor Mechanical Chip Conveyors: Central vacuum cleaning systems designed with high-powered vacuum pumps and VAC-U-MAX's unique Tube Hopper that collects and deposits chips onto existing below-floor mechanical chip conveyors. The system is used to manually clean the inside of the machine tool and large parts that are being machined which have a lot of nooks and crannies for chips and coolant to build up inside.
Visit Vac-u-max at IMTS booth #121035.
www.vac-u-max.com/vacuum; 973-759-4600