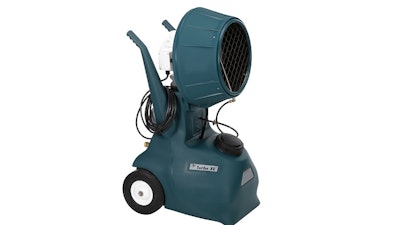 Airmaster (Clarklake, MI) has introduced its line of fogging fans. Airmaster's fogging fans are available in three different series, the Hydro SS 700, the GT500 and HRSM model, and provide a cool fog for industrial spot cooling and comfort. The Hydro SS 700 series is designed for quiet performance and is available in three configurations: direct feed, bench top fogger and hanging sump fogger. Ideal for cooling and humidification, the fogging fans are nozzle-free and insensitive to water quality. Other features include:
Compact, lightweight build with 300 series stainless steel hardware.
Adjustable fogging output with particles averaging 50 microns.
Fogging capacity up to 3.5 gallons per hour.
The GT500 series is the workhorse for stationary cooling and humidification capable of cooling a 1,000-square-foot area as a stationary unit and larger areas with the optional oscillating motor accessory. Features include:
Quiet operation (70 dba at 10 feet) with fogging rates of up to 15 gallons per hour.
¼ HP Washdown duty motor with stainless steel shaft, as well as stainless steel hardware throughout.
Operation with water supply pressures as low as 10 PSI.
The HRSM series of mobile, self-contained fogging fans are designed for indoor or outdoor environments with 100 percent humidity. Features for the HRSM model include:
Capabilities of projecting cool air up to 35 feet.
An 18-gallon water reservoir with internally submerged pump with water level gage.
Fog production for evaporative cooling/comfort, industrial spot cooling, large scale humidification and static/dust control.
Autonomous operation.
All fans in the line are delivered fully assembled. Optional accessories include molded floor stands, wall mounts and ceiling support.
www.airmasterfan.com; 800-410-3267