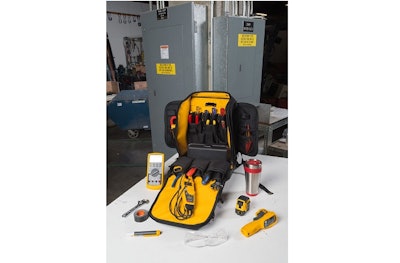 The new Pack30 Professional Tool Backpack from Fluke (Everett, WA) makes it easy to organize, transport, and access all the tools you need for the day. Designed specifically for an electrician's DMMs, clamps, tools and accessories, the rugged backpack also protects tools even in the dirtiest work site. For today's digital user, the Fluke Pack30 offers a way to carry all the necessary tools while keeping hands free to use cell phones and tablets. The Fluke Pack30 features:
More than 30 pockets and pouches designed to hold a broad array of Fluke tools and accessories, as well as screwdrivers, pliers, tape rolls and other hand tools.
Six main storage compartments for convenient organization.
A special pocket for tablets and laptops 12 inches (30 cm) wide or smaller.
Storage for safety glasses, earplugs, cell phones, valuables and more.
A rugged, waterproof molded bottom to protect tools and accessories from the elements.
A molded base that also holds backpack upright, keeping tools organized and within easy reach.
www.fluke.com/flukepack30; 800-44-FLUKE