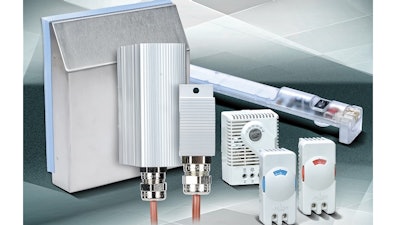 AutomationDirect (Cumming, GA) has added 54 new STEGO part numbers to its enclosure thermal management and enclosure lighting product lines. New products include hose-proof hoods for filter fans, hazardous area heaters, thermostats/hygrostats/hygrotherms and a new line of Ecoline LED lights. Specifically:
The new hose-proof hoods fit existing filter fans and the newer Filter Fan Plus line, and are designed to increase the protection class and serve as a protective cover for the filter fans, intake grilles and exhaust grilles. Used for protection against washdown hosing and other harsh environmental conditions, the weather-resistant stainless steel hoods increase the UL protection class to UL Type 4X.
New hazardous area heaters augment existing heaters and are more compact with more wattage options. These compact 50W to 200W convection heaters are used in hazardous areas to prevent formation of condensation and frost in electrical enclosures and measuring equipment.
New thermostats, hygrostats and hygrotherms expand the offering of voltages and temperatures, and add thermostats for hazardous areas. These compact mechanical hazardous-area thermostats offer a high response accuracy, small switching difference, and a very long service life (switching cycles) for the regulation of heaters deployed in hazardous areas. High current performance allows direct control of a heater.
Ecoline LED lights require no special cables or connectors; simply connect wiring to the dual cage clamps. The Ecoline lights have both magnet mount and screw mount options and add a new clip mount option. The Ecoline lights are available with on/off switch and motion sensor switch options, and add a third no-switch option allowing use of an independent switching device.
www.automationdirect.com/enclosure-climate-control; 800-633-0405