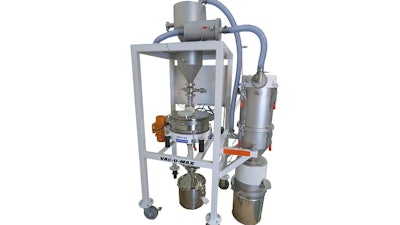 VAC-U-MAX (Belleville, NJ) has announced a new Metal Powder Recovery System (AM-MPRS) for Additive Manufacturing /3D Printing applications, that now offers conveying, screening, recovering and reuse of metal powders including Inconel, Stainless Steel, Haynes 282 and Cobalt Chrome. The VAC-U-MAX AM-MPRS increases productivity of Additive Manufacturing /3D Printing Machines by extracting metal powders from the printing bed via vacuum, and then sieving the metal powder for future use – cutting metal powder recovery time by 85%. The new AM-MPRS is designed for ease-of-use, conveying metal powders in a closed system, eliminating operator exposure to metal dusts and maximizing plant and personnel safety. Features include:
NFPA 484 compliance for handling metal powders, and reducing risk of cross-contamination.

The ability to allow for full metal powder recovery and quick dismantle without tools.

An ergonomic low-profile design and mobile frame, allowing easy rolling with lockable casters.

A pick-up hand tool and static-conductive hose with smooth bore. Hoses for non-aerospace applications are available in PVC construction, both FDA and USDA approved.
www.vac-u-max.com/AM-MPRS; 800-VAC-U-MAX