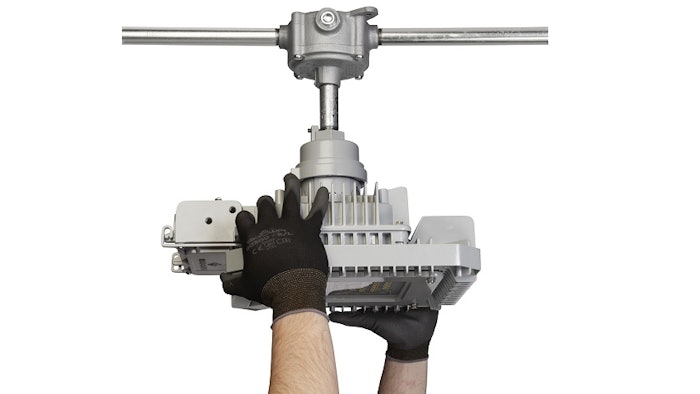 Emerson (Rosemont, IL) announces the new Appleton Baymaster LED High Bay luminaire, featuring a patented Quick-Mount pendant system that makes it faster, safer and more cost-effective than ever to install high bay LEDs in harsh industrial and hazardous locations. Emerson designed the Appleton Baymaster LED with the understanding that replacing traditional HID or flourescent high bays with energy-efficient LED technology can be costly and difficult. Emerson's Appleton Baymaster significantly reduces labor costs with its low weight and timesaving Quick-Mount system. One electrician using standard tools is all that is required to pre-wire the mounting hood, line the arrows up and lock the Baymaster into place. Additional features include:
Secondary optics, helping to shape the Baymaster LED's light to meet precise application needs, while eliminating glare and dark spots.
A choice of aisle, narrow, medium or wide beam spreads, meaning it is now possible to offer optimal light distribution in challenging areas such as aisle ways and walkways.
Six lumen output levels (9500K to 38000K) and 5000K cool white or 3000K CCT warm white color options, providing greater mounting height versatility and superior light quality wherever it is installed, making it an ideal replacement for HID high bay luminaires from 175W to 1500W.
Unprecedented resistance to corrosion, vibration, surges, thermal shock and moisture. Mounting hoods and bodies are forged from copper-free aluminum protected by a baked epoxy-clad finish, electrostatically applied for complete uniform protection. The result is an industrial LED rated for 84,000 hours with luminaire life that can exceed 200,000 hours depending on ambient temperature.
A robust enclosed and gasketed design that ensures safe usage in areas where flammable gases and vapors may be present, or where dirt, dust, severe weather conditions, and high temperatures are encountered.
www.emerson.com; 800-621-1506