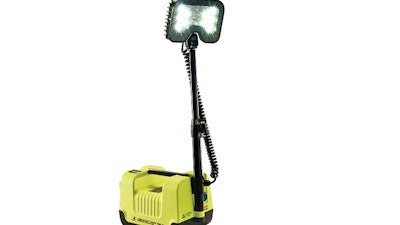 Pelican Products, Inc. (Torrance, CA) has announced the long-awaited launch of the new safety certified Pelican 9455 remote area lighting system (RALS), attaining the first Class I, Division 1 / IECEx ia / Zone 0 certification, supporting the greatest demand in safety certified lighting. According to the company, the 9455 has a 1600 lumen output and is the first safety certified remote area light with a 125° beam, providing workers with a significantly wider view for higher situational awareness in work areas where safety is paramount. The 9455 has three lighting modes: high, low and flashing. It will provide up to ten hours of light on low output setting (enough for an entire work shift), and five hours on the high output mode. Additional key features include:
An extendable mast with a 360-degree rotating head allowing illumination in any direction.
A low battery warning with a flashing light for visual indication.
A Nickel-metal hydride (NiMH) rechargeable battery with a lifespan of over 300 cycles.
An LED lamp with a life expectancy of more than 50,000 hours.
Rugged construction, with the body made from polycarbonate/ABS and the head made from aluminum.
www.pelican.com; 800-473-5422