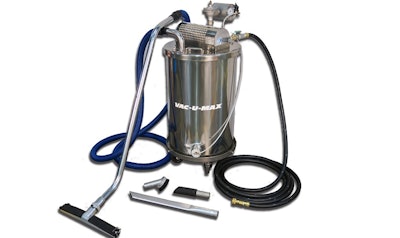 VAC-U-MAX (Belleville, NJ) announces it will exhibit at Pack Expo 2017, September 25-27, Las Vegas Convention Center, at Booth S-7217. Exhibiting "Ready-to-Operate" processing and packaging solutions for powder and bulk-ingredient transfer to filling machines and packaging lines, equipment on display includes:
Refilling Filling Machines via Vacuum Conveying Systems.
Sanitary Vacuum Conveying for Powders & Combustible Dusts: FDA, USDA, 3A-Dairy Accepted.
The new Model 15 Combustible Dust Air-Vac for Food Processing Environments.
Model 40008SS (pictured): Stainless Steel Combustible Dust Air-Vac for Fine Powders – Air Powered – No electricity.
Model 40012: Combustible Dust Air-Powered Vacuum Cleaner for Fine Powders- Air Powered - No electricity.
Model 850: Continuous-Bagging System for Fine Powders / Dusts.
Specializing in the design, manufacture, engineering and automation of processes, VAC-U-MAX combines state-of-the art electronic technology with innovative mechanical and pneumatic conveying technologies, designing systems for conveying, weighing and batching dry bulk materials.
To register for a complimentary expo pass, visit: www.vac-u-max.com/PackExpo