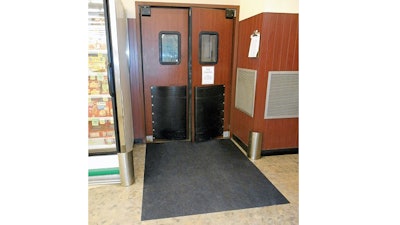 Despite an obsession with customer care and safety, TX-based supermarket chain Market Basket Foods found its customers and employees were still at risk for slips, trips and falls in their stores.
Rental floor mats were part of Market Basket's floor safety program that also includes wet floor warning cones, spill cleanup procedures, regularly scheduled floor cleaning, employee training and incident documentation. But even though they were doing everything right, customer trip-and-slip accidents were still a problem.
"When you have shopping carts running across rental mats, they will move 30 feet in the course of the day," says Mike Rohrbaugh, Market Basket Vice President and Division Manager. "So everybody was constantly bending over and moving them back". Once a week, every Market Basket store would get their rental mat delivery and the battle would begin. Some of the mats wouldn't lay flat. Most of them wouldn't stay put. They were hard to vacuum and clean around. If they curled on the ends, they became a tripping hazard — and a frustrating, potentially expensive liability.
In the fall of 2013, Rohrbaugh spotted a product called PIG Grippy Floor, described as "An absorbent mat with a specially formulated, full-coverage adhesive backing that holds tight to the floor, but peels up easily." And there was an added bonus: it was tested and certified by NFSI as a high-traction walking surface, making it the perfect alternative to rental floor mats. "I thought it might work,"says Rohrbaugh.
Replacing their rental mats with PIG Grippy Floor Mat provided immediate and dramatic results for Market Basket. Because of the adhesive backing, the mats laid flat and stayed flat with absolutely no shifting, bunching up or flipping over. Slip and trip hazards were virtually eliminated overnight. Associates and managers didn't need to spend valuable time putting mats back where they belonged. Shopping and stocking carts easily rolled over the mat with no creeping or bunching up under the wheels. Even loaded pallet jacks could roll across without affecting the surface or lifting the adhesive.
Another surprise for Market Basket was Grippy Mat's outstanding durability. During the initial test, Rohrbaugh and his managers expected 10 weeks of use, but it stayed on the job a full 16 weeks before they decided to change it out — translating into $120,000 in annual cost savings. "Cost-wise, we broke even after only two-and-a-half weeks," says Rohrbaugh.
www.newpig.com; 800-HOT-HOGS