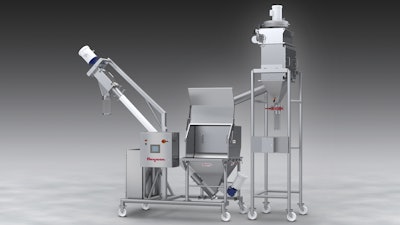 According to Flexicon (Bethlehem, PA), its new manual dumping system with integral conveyor and separate dust collector is suitable for dairy powders, pharmaceutical products and contamination-sensitive bulk foods.
Designed and finished to 3-A sanitary standards, the system is comprised of a manual dumping station with surge hopper, flexible screw conveyor and support boom on a caster-mounted frame, plus a separate mobile dust collection system that can be configured alongside or remotely. Ready to plug in and run, the mobile system can serve multiple functions throughout the plant, and then be rolled to a wash-down station and storage area. Additionally:
A dust hood with hinged lid is mounted to the floor hopper with quick release clamps, and is equipped with an internal baffle and air vent port for efficient dust collection.

A support tray allows operators to stage manual additions from hand-held sacks before dumping material through a grate fabricated of powerful rare earth Neodynium-iron-boron magnet material.

All product contact surfaces are of #316 stainless steel with continuous welds ground and polished to 180 grit or better, including the specially designed screw which is welded instead of fastened to the motor drive shaft.

A quick-release end cap allows removal of the flexible screw from the lower end of the crevice-free conveyor tube for rapid sanitizing and inspection of both components.

Safety interlocks prevent operation of the conveyor during screw removal or separation of the dust hood from the surge hopper.

The stand-alone dust collector is equipped with an automatic reverse-pulse filter cleaning system with stainless steel air reservoir rated at 99.99% collection efficiency for materials with particle sizes of 5 microns or greater.
www.flexicon.com, 888-353-9426