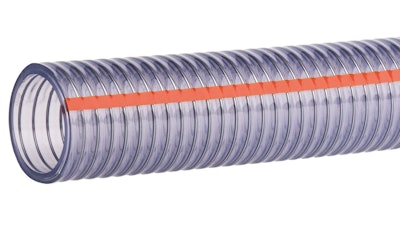 The new Kuri Tec K7560 Series Oil Resistant Food & Beverage Vacuum/Transfer Hose from Kuriyama (Schaumburg, IL) is food grade and complies with FDA and NSF requirements. The hose meets the ARPM Class A rating for oil resistance, and is non-marking. Reinforcement wire can be used for static dissipation. Additional features include:
A crystal-clear design that allows for visual flow of materials.
An ideal option for transfer of oily food products such as olive, sunflower, soybean and peanut oils, petroleum-based oils and grease suction.
Availability in ID sizes ½" to 3".
www.kuriyama.com/catalogs/Kuri-Tec-Polyspring-flyer/; 847-755-0360