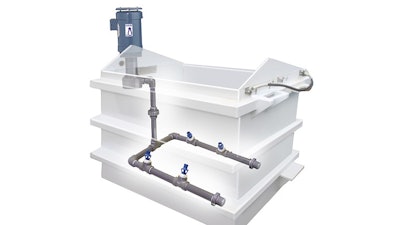 Eductors utilize a unique venturi design which enables smaller pumps to circulate larger volumes of tank solution. The eductor can circulate four to five gallons of solution for each gallon pumped. Penguin PENDUCTORs from Filter Pump Industries (Sun Valley, CA) are efficient space saving eductors designed specifically for the process/metal finishing industry for fluid sparging applications.
The nozzle design utilizes the same orifice size for 3/8" through 1.0" NPT tank mixing eductor, which provides the same flow characteristics with less pressure reducing the horsepower required on larger systems.
The diffuser was designed with a larger plume, 30 degree dispersion angle, for more uniform agitation and a lower profile to allow you to utilize your tank space more efficiently. The newer ¼" size use a 15 degree plume. The are ideal for:
Vigorous and constant agitation.

Eliminating hot spots/temperature stratification.

Allowing for increased density causing faster plating rates.

Creating more uniform plating distribution.

Circulating process tanks, cleaners, plating, strippers and rinsing.

P

lating and Anodizing.
www.filterpump.com, 818-504-2391