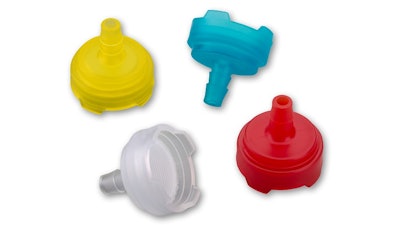 The F810 Filtered Intake from Air-Logic (Racine, WI), provides a filtered entry for air, gases and fluids. Whether the user is looking for a product to intake water, air, gas or liquids, the Filtered Intake can work for the system, as the shape of the part provides a flow path even if placed against a flat surface. Other features include the following:
Polypropylene filter mediums are available.
The body color indicates the filter type and mesh size.
The product has a double barbed fitting for a 1/8" vacuum line.
The product is currently available with 2 different filtration colors, blue and clear.
Common applications include vacuum filter, vacuum intake, fluid pickup, filtered entry and many more.
www.air-logic.com; 262-639-9035