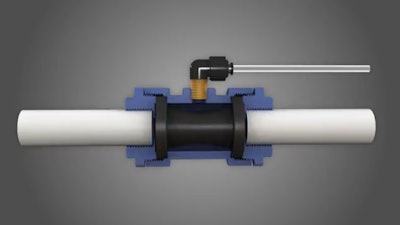 This animation of the Airpinch valve from Richway Industries (Janesville, IA) demonstrates the unique simplicity of these valves, and also highlights why they're ideal for handling abrasives, slurrries, solids and any other tough applications for valves.
Airpinch valves use compressed air, or fluid, to compress the rubber sleeve inside of the valve body to shut off media flow. Operating pressures for controlled material vary depending on sleeve elastomer and valve size. They can range from a moderate vacuum (up to 26" Hg) to a maximum of 90 psi when controlling with air.
Required actuation pressure is generally 20 to 40 psi greater than media pressure. It's recommended that the actuation air pressure be set just high enough to get complete valve closure. Using higher actuation pressure than is required to get complete media shut off can reduce sleeve life. Use of actuation pressure above 90 psi is not recommended.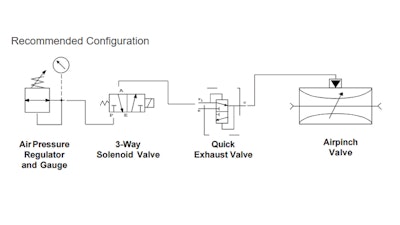 As shown above, this is the recommended configuration for controlling an air pinch valve. The regulator is used to set the actuation air pressure and a three-way solenoid controls the regulated air signal going to the valve. Once the pressure to the air pinch valve is released, it's exhausted back through the three-way valve, allowing the sleeve to open. A quick exhaust valve isn't required for operation, however in applications where the solenoid is a long distance from the air pinch valve, it'll allow quick operation by allowing the actuation pressure to exhaust more quickly.
By design, Airpinch brand pinch valves are normally open and require constant pressure for complete closure. Therefore, a loss of control pressure will allow the valve to open. In the event of sleeve failure, controlled material can enter the actuation system.
CAUTION: Airpinch pinch valves should not be used in applications where such conditions could cause system damage or failure. The designer must recognize sleeve failure can occur at any time.
The actuation valve controlling the Airpinch must have free exhaust to allow the Airpinch to open. A solenoid, manual, or air-pilot operated 3-way control valve is required. A check valve cannot be used between the Airpinch and exhaust port of the controlling valve. Using a QEV can improve valve opening response time.
www.richway.com; 800-553-2404