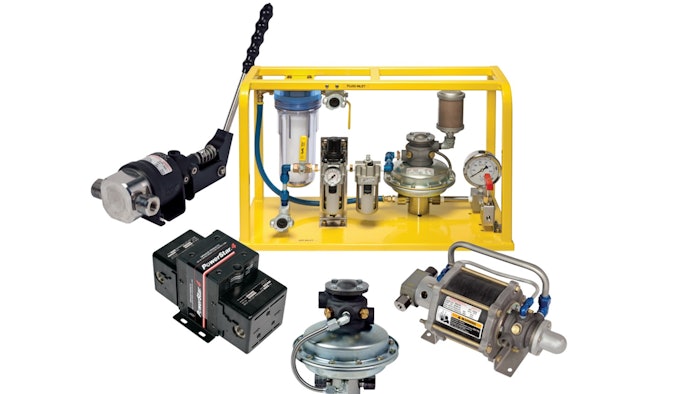 High Pressure Equipment Co. (HiP; Erie, PA), a subsidiary of Graco Inc., has added Sprague hydraulic pumps, gas boosters and power units to its family of products. Specifically:
Sprague Air-Driven Hydraulic Pumps are available in a range of designs, each with specific pressure ranges and design configurations to meet the demands of the high-pressure pump market. The Sprague positive-displacement pump converts air-drive pressure into hydraulic discharge pressure with output pressures up to 36,500 psi. The pumps are able to maintain a liquid-air balance indefinitely in a holding condition with minimal energy consumption and no increase in fluid temperature or parts movement.
Sprague Air-Driven Gas Boosters intensify pre-charge pressures, adding efficiency to applications where system or bottle pressures are limited. The boosters feature output pressures up to 13,500 psi and reach set pressure quickly without heat build-up, and will hold the pressure indefinitely with minimal energy consumption. When a pressure imbalance occurs, the booster will automatically restart to restore the discharge pressure to the regulated setting.
Sprague Air-Driven Power Units include a family of packaged power systems that utilize Sprague hydraulic pumps or gas boosters and deliver output pressures up to 36,500 psi. All Sprague power units include inlet drive air controls and liquid outlet controls.
www.HighPressure.com; 800-289-7447