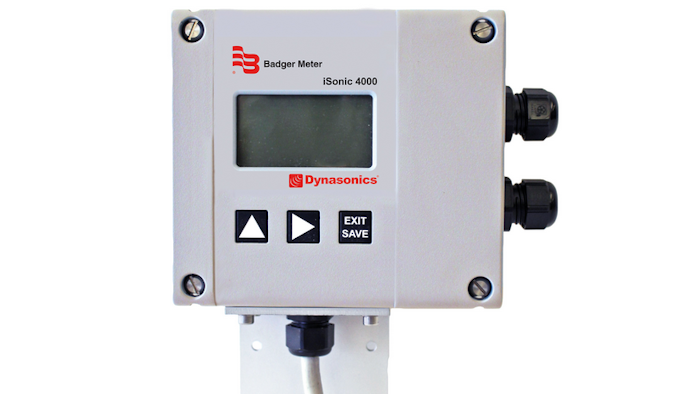 Badger Meter (Milwaukee, WI) has introduced the Dynasonics iSonic 4000 flow meter, an economical solution for a wide range of open channel flow measurement applications. The new flow meter accurately measures level, flow rate and total volume of water and other liquids flowing through weirs and flumes. The Dynasonics iSonic 4000 flow meter is well suited for applications ranging from flow into water treatment plants, storm and sanitary sewer systems, and effluent from water resource recovery, to industrial discharge and irrigation channels. Features include:
A non-contact ultrasonic level sensor to measure the water level in a flume, weir or other channel.
A unit programmed using three front panel push buttons, with the programming menu offering a wide variety of primary flow elements. Based on Manning's equation, the flow rate is determined according to the dimensions, characteristics and water level of the channel. This correspondence between water level and flow rate allows for a cost-effective solution for measuring flow in angular open channels and partially filled pipes, as well as measuring volumetric contents of liquids in tanks.
Easy ability to interface with most supervisory control and data acquisition (SCADA) systems.
Simple installation and setup, sending level, flow rate and total volume information over Modbus RTU. A robust data-logging feature with selectable intervals provides a backup of measurements in case of network outages or reporting lapses.
An operating temperature range of -4° to 140° F (-20° to 60° C), meaning the iSonic 4000 can be paired with the Badger Meter BEACON Advanced Metering Analytics (AMA) software and AquaCUE Flow Measurement Manager system for use in utilities and water resource management.
www.badgermeter.com; 800-876-3837