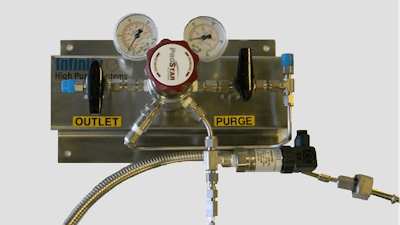 Infinity High Purity Systems
Infinity High Purity Systems (Sun Prairie, WI) offers standard gas delivery panels as well as custom-designed panels to meet both installation and operation requirements. Options include:
Up to 5 valve panels for source panels (1, 2, and 3 valve panels also available).
A variety of multi-gas centralization secondary point-of-use panels.
Optional integration of real-time gas monitoring.
A custom-designed stainless steel panel, which is designed to fit in order to maintain regulator reliability and provide ease of maintenance.
Panels that each feature an integral check valve in the CGA connection and a metal-to-metal diaphragm seal to protect the system from external contamination.
Construction materials that include high-flow or dual-stage regulators, some with purge capabilities.
For more information, visit www.infinityhps.com or call 608.834.4200.