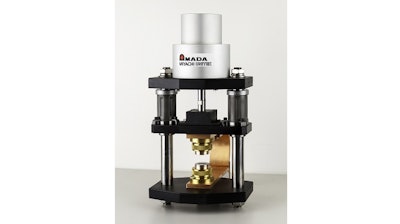 AMADA MIYACHI AMERICA INC. (Monrovia, CA) highlights the KN-II Series Pneumatic Weld Head, a robust, low maintenance weld head ideal for opposed electrode welding applications that require fast follow-up to prevent material expulsion. The KN-II is also a good choice for welding ring or annular projections with a perimeter length ranging from 0.40 to 7.0 inches and for microelectronic cap welding applications requiring co-planarity. Extensively proven in industrial environments around the world, the KN-II is used to weld sensors, frequency devices, filaments, heating elements, photonics packages, strain gauges, transducers and more. The KN-II features:
A dual cylinder design that delivers more than 4000 pounds of weld force.
A robust, low maintenance die set design, and the weld head boasts rigid construction using a 25 micron matched linear ball bearing bushing and tie rod for precise positioning and planarity.
Optional configurations for use with any manual or automated welding system and offers simple actuation using the Benchmark SS-1 pneumatic weld head controller.
www.amadamiyachi.com; 626-303-5676