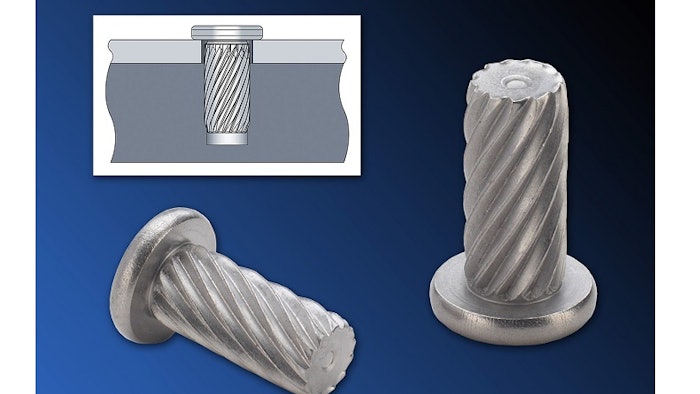 New stainless steel PEM TK TackSert pins from PennEngineering (Danboro, PA) introduce ideal alternatives to screws for attaching thin panels in assemblies. According to the company, they can securely attach panels of any material to base panels manufactured from common casting materials (such as AZ91D) or plastics (such as ABS and printed circuit boards), and their unique design features promote reliable performance in service. Benefits include the following:
PEM TK TackSert pins deliver multiple advantages over screws by eliminating any need for mating threads from tapped holes or inserts and the rework frequently required due to screw cross-threading and driver bit "cam-out." Patches intended to prevent fastener loosening in service are unnecessary.
Among pin design features, a tapered tip assists in pin location to enable easier alignment into a base panel, a specially engineered diagonal broaching knurl (instead of threads) creates a firm interference fit without hole-tolerance issues, and a low-profile head minimizes protrusion on the attached panel.
The pins are offered in a variety of lengths and can successfully attach sheets with thicknesses from .067" / 1.7mm to .185" / 4.7mm, depending on pin length.
www.pemnet.com; 800-237-4736