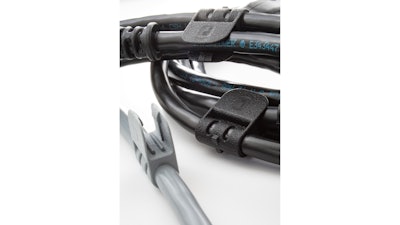 Interpower
Interpower (Oskaloosa, IA) announces a new optional cord clip for all of its 3x18 AWG cords, and the 3x18 VCT-F Japanese cords. All cords are made in America. The new cord clip features:
A glass-reinforced Polypropylene compounded resin construction for molding consistency and retention.
Clips set 4.75 inches behind the plug.
Molded in gray (P/N: 65910020) and black (P/N: 65910010).
The ability to clip excess cord to prevent tripping and injuries.
Extended cord life by keeping it away from tools and machinery.
Material that isn't hazardous by OSHA Hazardous Communication Standard 29 CFR 1910.1200, and isn't an RCRA hazardous waste compounded resin.
Applicability in industrial, information technology, appliance, medical, food service and anywhere excess cable could pose an issue or a danger.
Interpower offers no minimum order or dollar requirements as well as a one-week U.S. manufacturing lead-time on non-stock Interpower products. Same day shipments are available on in-stock items.
For more information, call 800-662-2290, email info@interpower.com and visit https://www.interpower.com/ic/.