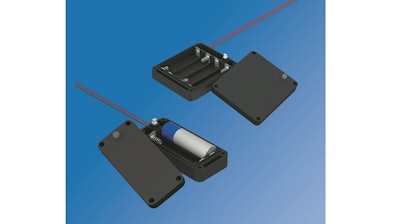 Keystone Electronics (New Hyde Park, NY) has introduced its latest covered, plastic battery holders. These self-contained holders may be placed on or off a board as well as between components, cards or anywhere within a case or piece of equipment as space allows. In addition to portability, these devices feature coil spring contacts to accommodate various battery lengths and to firmly secure batteries in place – ensuring positive, low-contact resistance connections. Benefits include:
A molded ABS construction, for increased durability. These holders are also supplied with a sealing gasket to ensure a watertight compartment for AA batteries.
An IP65 rating to withstand water, dust and other harsh environments. Included in these enclosures are 6" long, #26 AWG pre-tinned, wire leads for simplified installation; nickel-plated spring steel contacts and a built in, sealed, on-off switch for additional product security.

Holders available in configurations to accommodate two AA cells (Cat. No 2438), three AA Cells (Cat. No 2439) or four AA Cells (Cat. No 2440) from stock through Keystone's global distribution network. Online ordering is also accommodated.
A major producer of SMT and THM battery hardware, Keystone supplies battery and coin cell holders, clips, straps and retainers in a broad range of sizes and types along with an extensive array of electronic interconnects and hardware. In addition, application engineering services are provided to meet special product modifications or custom designs with active stamping, machining and assembly support.
www.keyelco.com; 800-221-5510